NFR heads East to steal medals: 2018 Silver Goose Pan American cyclocross championships
"Hey. Steel bike kid. Come with us." This is how they addressed 16 year old Naked Factory Phenom Carter Woods after he pulled off a bronze at the SilverGoose CX Pan-Am Championships on in Midland, Ontario this November.
It seems the Ontario cycling officials don't know who Carter Woods. Same for NFR's 99lb "Killer" Emilly Johnston. After two days of starting near the back rows of a starting grid packed full of North America's best cyclocross talent, through, both we're starting to turn heads. The two Junior racers stood out on their steel and titanium bikes in a field filled with carbon race whips, especially as they were quickly moving up to the front of the Silver Goose races both days.
In the end, Carter landed in third on the Junior Men's podium, laying down the fastest lap of the race along the way. Emilly, with no Junior Women's race, placed 5th against a smoking-fast Under23 Women's field on Sunday. That's after racing against the Elite women on Saturday, where she finished an incredible 22nd – working her way well into the top half of the field against the pros.
"All of this may be a surprise to the Pan-Am Cross world," Sam commented, "but not to those of us who are privileged to be thrashed by them on a weekly basis."
That's how Carter "Steel bike kid" attracted the attention of the anti-doping officials. But before that, there was two whole days of racing.
Midland, Ontario is squeezed between two lakes, a couple hours north of Toronto. At the start of November, weather ranged from snowing to hailing, a little rain, and even beautiful fall sun. All before noon, Saturday. This made for challenging racing, and the Junior Men definitely caught the brunt of the weather, with the worst conditions on course. After making his way to the front of the race, Carter yo-yo'd off the lead group as he tried to deal with massive clusters of mud clumping on his drivetrain, then mixing with sand when the course hit the beach. Despite the mechanical struggle, he finished sixth in Saturday's C2 race, and was primed for a big race Sunday.
Elite and U23 Men were next on course. Starting, more justifiably, at the back of a 53-deep field, I (Terry) held on up the paved start straight, then dodged full chaos as the massive field turned left into deep, slick mud. After that, it was a matter of using the courses technical sections to try hold on against riders with much more fitness. Eventually (very quickly) the lead group of Michael van den Ham, Stephen Hyde and race winner Gage Hecht caught us, ending my day a little early in 37th.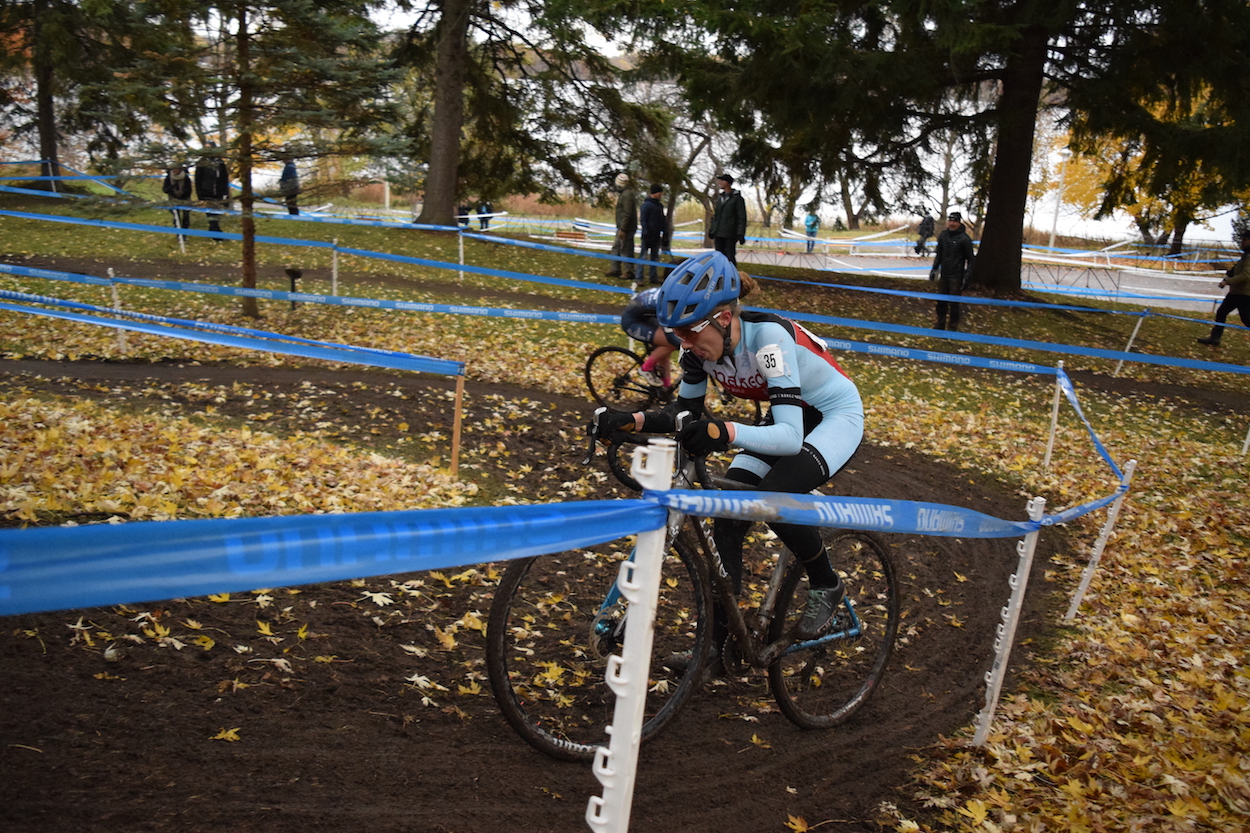 Emilly was last to race, being thrown in with the Elite Women's C2 race. With no Junior race, Killer was racing U23. And on Saturday, U23's were racing with the Elites. So, several rows back from World Cup winner Katie Kough, Canadian national champion Maghalie Rochette, and Trek Factory Racing's Ellen Noble, Emilly started working her way through a field of 50 women. By the end of her race, Killer had picked her was through the high-caliber field to finish a remarkable 22nd.
After Saturday's muddy, power-heavy and technical course, a sunny Sunday made for completely different racing. Carter was the first to line up again, but this time the course was fast, mostly dry, and all about speed.
Starting from the back of the start grid again, since UCI points are only updated between race weekends, Carter chased his way through the field to try find the front of the race. A leading trio had quickly escaped, and Woods started dragging a group of three back towards the leaders. Carter's chase group dropped to two before they made contact, so with a couple laps left it was a leading group of five. Who was on the front changed every time I saw them on the course, but there was no escaping the group. In a group sprint for the line, Carter ended up third – capturing Naked Factory Racing's first Pan-American cyclocross continental championship medal!!
Killer was next on course, this time racing with the Under23 women's field. Also starting at the back, Emilly had work to do to get through a sizeable field of older riders. She quickly set about moving her way up, until she was dueling with Trek Factory Racing CX's Emma Swartz for fourth. The elder American was able to pull out an eight second advantage on the final lap, putting Emilly in a very impressive fifth in Elite Women. Her finish put her as the second Canadian in the race, behind Canadian U23 national champion Ruby West of Specialized-Tenspeed Hero.
In the Elite Men's champ race, I finished somewhere around 22nd. While I wasn't at, or anywhere near the front of the race (until it was so far ahead of me it was right behind), it was a great weekend of racing on an incredibly fun, fast course in Midlands. Except for those granite stairs. If I never have to run those again, I'll be happier.
Then we all watched Maghalie Rochette win the Elite Women's Pan-American Championship race! Next up, Canadian cyclocross championships in Peterborough, Ontario.